Here are Some Romantic Good Night Love Quotes for Her. Just as we start the day by saying good morning quote, the night that begins with evening needs to be greeted with a good night quote. These good night love quotes will inspire you to send good night quotes to your love ones. These good night love quotes will inspire to understand each other's thoughts. This can make your relationship more intense.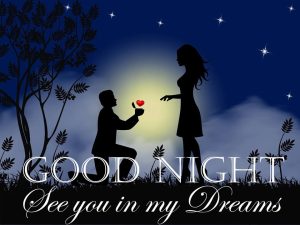 So read the Romantic Good Night Love Quotes without wasting time.
75 + Romantic Good Night Love Quotes
1. "I promise to love you forever, every single day of forever." – Stephanie Meyer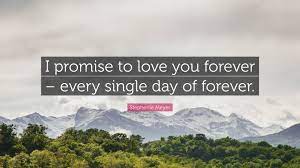 2. "Every time I see you, I fall in love all over again." —Unknown
3. "Each day I love you more, today more than yesterday and less than tomorrow." —Rosemonde Gerard
4. "When you look at me, when you think of me, I am in paradise." – William Makepeace Thackeray
5. "In your life, my infinite dreams live." – Unknown
6. "I just want you to know that you're very special… and the only reason I'm telling you is that I don't know if anyone else ever has." – The Perks of Being a Wallflower
7. "We loved with a love that was more than love." – Edgar Allan Poe
8. "We are most alive when we're in love." – John Updike
9. "Within you, I lose myself. Without you, I find myself wanting to become lost again." – Unknown
10. "Every day and night, my mind is filled with thoughts of you. As long as the sun continues to shine, you can be sure that my heart will remain yours." – Unknown
11. "If you find someone you love in your life, then hang onto that love." – Princess Diana
12. "When I look into your eyes, I know I have found the mirror of my soul." – Joey W. Hill
13. "To me, you are perfect." – Love Actually
14. "I think I'd miss you even if we never met." – The Wedding Date
15. "Take love, multiply it by infinity and take it to the depths of forever, and you still have only a glimpse of how I feel for you." – Meet Joe Black
16. "I love you as certain dark things are to be love, in secret, between the shadow and the soul." – Pablo Neruda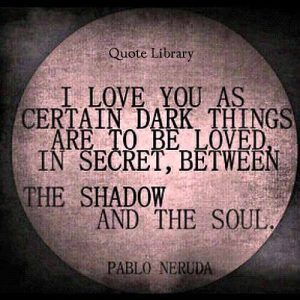 17. "The best love is the kind that awakens the soul; that makes us reach for more, that plants the fire in our hearts and brings peace to our minds. That's what I hope to give you forever." – Nicholas Sparks
18. "For small creatures such as we, the vastness is bearable only through love." – Carl Sagan
19. "If you live to be a hundred, I want to live to be a hundred minus one day so I never have to live without you." – A.A. Milne
20. "I love you for all that you are, all that you have been, and all that you will be." – Unknown
21. "My soul and your soul are forever entangled." – N.R. Hart
22. "I love you more than I have ever found a way to say to you." – Ben Folds
23. "You are, and always have been, my dream." – Nicholas Sparks
24. "Come here now and kiss me." – Genesis 27:26
25. "By night, beloved, tie your heart to mine and let them both in dreams defeat the darkness." – Pablo Neruda
26. "This is what you brought out in me. How could I want it with anyone else?" – J.M. Storm
27. "For when the cold winds blow, I will close my eyes calmly, knowing I am anchored to you." – Tyler Knott Gregson
28. "It is lonely here and I miss your light." – Ranata Suzuki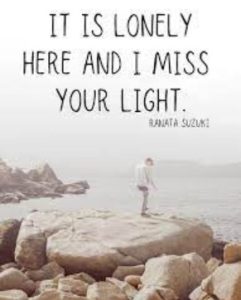 29. "My love is selfish. I cannot breathe with you." – John Keats
30. "I don't know what they're called, the spaces between the seconds, but I think of you always in those intervals." – Salvador Plascencia
31. "I never want to stop making memories with you." – Pierre Jeanty
32. "I love you past the moon and miss you beyond the stars." – J.M. Storm
33. "I only miss you when I'm breathing." – Jason Derulo
34. "I wish you to know you have been the last dream of my soul." – Charles Dickens
35. "We only part to meet again." – John Gay
36. "The moon embalms me with her love and she kisses me good night. The nightingale sings her song of love when I take rest in the arms of darkness in the night!" – Avijeet Das
37. "Slow down your thoughts. Focus on your breaths. Get rid of the clutter in your mind. Prepare your body for rest. It's time to sleep and wake up refreshed and rejuvenated in the morning. Good night!" – J. Bastianich
38. "Every parting is a form of death, every reunion a type of heaven." – Tryon Edwards
39. "If someone wishes you good night every day, you're happier than so many people." – Martin Freeman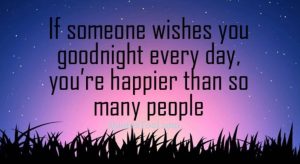 40. "Before you fall asleep every day, say something positive to yourself." – Enid Bagnold
41. "As you fall asleep, I want you to remember what a good person you are. Remember that I admire you and care for you. Sweet dreams!" – Unknown
42. "Let us step out into the night and pursue that flighty temptress, adventure." – J.K. Rowling
43. "I need you like a heart needs a beat." – One Republic
44. "May the nights always be aglow with the bliss of the day, with unharmed hands and feet and kissed cheeks." – Sanober Khan
45. "There is something to be said for the night. The darkness holds a sense of promise, as if anything could happen. Good night!" – Meg Collett
46. "In true love, the smallest distance is too great, and the greatest distance can be bridged." – Hans Nouwens
47. "I have loved the stars too fondly to be fearful of the night." – Sarah Williams
48. "Goodnight stars, goodnight air, goodnight noises everywhere." – Margaret Wise Brown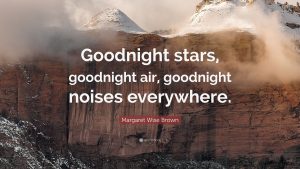 49. "An ending is always the start of something new. Good night." – S.H. BoBu
50. "You know someone is very special when days just don't seem right without them." – John Cena
51. "Let your mind weave into your subconscious. Your dreams will be filled with the beautiful castles your mind creates." – Isaac M.C.
52. "The night is more alive and more richly colored than the day." – Vincent van Gogh
53. "Don't fight with the pillow but lay down your head and kick every worriment out of the bed." – Edmund Vance Cooke
54. "Missing you could turn from pain to pleasure if I knew you were missing me too." – Unknown
55. "I dream of the day when each night will end with good night and not goodbye. That day will come soon." – Unknown
56. "Some nights are made for torture, or reflection, or the savoring of loneliness." – Poppy Z. Brite
57. "Life begins at night." – Charlaine Harris
58. "Think of all the good moments of this day and keep a smile for tomorrow. Good night!" – O.M. Kumawat
59. "It's always better when we're together." – Jack Johnson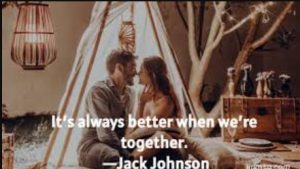 60. "I'm in my bed, you're in your bed. One of us is in the wrong place." – Unknown
61. "Good night dear friend! I say good night to thee. Across the moonbeams, tremulous and white, bridging all space between us." – Hester A. Benedict
62. "Sleep is the golden chain that binds health and our bodies together." – Thomas Dekker
63. "May tonight be a lovely and serene bridge that will lead you to a wonderful tomorrow." – E. Joseph Cossman
64. "If I miss you any harder, my heart might come looking for you." – Gemma Troy
65. "Good night now, and rest. Today was a test. You passed it, you're past it. Now breathe 'til unstressed." – Lin-Manuel Miranda
66. "For tonight, he will wonder into a glorious quest off the night, and he lay down his head, will the angels guard him. Good night and sweet dreams." – Perpetua Ukakogu
67. "A well spent days brings happy sleep." – Leonardo da Vinci
68. "The stars sparkle and shine as you do in my life. Have a good night's sleep." – Unknown
69. "My love for you has no depth; its boundaries are ever-expanding." — Christina White
70. "Do not worry about tomorrow. I will always be there to set things right. Good night!" – Unknown
71. "The stars and moon arrive just to wish you a good night. Let the light of the moon guide your dreams as you pass the night away." – Piquanter Ganapathy
72. "Good night! Ah, good the night that wraps thee in its silver light. Good night! No night is good to me that doesn't bring a thought of thee." – Unknown
73. "Your future depends on your dreams, so go to sleep." – Mesut Barazany
74. "Sweet dreams, because anything else would be just a nightmare. Good night!" – Anthony T. Hincks
75. "I miss you in ways that not even words can understand." – Gemma Troy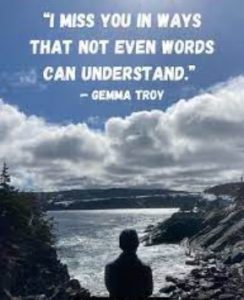 Conclusion —
Read the romantic good night love quotes to see which quotes applies to you. Make your place deep in your loved one's heart by sending suitable good night love quotes.
You can use WhatsApp, Facebook, and Instagram or any social media to send this Some romantic good night love quotes for her.